Would you like to make your camping trips more enjoyable and cozy? If so, you definitely need a good camping lantern. It puts out
a bright, warm light that can nicely illuminate a whole tent. But with so many modern lantern choices, it may be a daunting task to choose the right one. Therefore, we have selected only the best camping lanterns that are light, bright, compact and durable.
...
Read more
...Read less
X
This site is a free online resource that strives to offer helpful content and comparison features to its visitors. Please be advised that the operator of this site accepts advertising compensation from certain companies that appear on the site, and such compensation impacts the location and order in which the companies (and/or their products) are presented, and in some cases may also impact the scoring that is assigned to them. The scoring that appears on this site is determined by the site operator in its sole discretion, and should NOT be relied upon for accuracy purposes. In fact, Company/product listings on this page DO NOT imply endorsement by the site operator. Except as expressly set forth in our Terms of Use, all representations and warranties regarding the information presented on this page are disclaimed. The information which appears on this site is subject to change at any time. More info
Lighting EVER Waterproof Rechargeable
The Brightest Lantern
The Lighting EVER camping lantern is one-of-a-kind model that boasts one of the best power-to-size ratios on the market. Looking like most other camping lanterns, it drastically outperforms them in terms of light output - with an enormous 1000-lumen output, it's extremely bright for its small size. Actually, it's so bright that if you look right at the LEDs, you may temporarily go blind.
However, if you'd like to decrease that brightness, you can simply press the switch to dim down the light or choose another light mode. Speaking of which, the lamp offers four light settings to cater to any need. The 6000K mode produces white light; 3000K mode is very similar to a household warm light bulb; 6000K+3000K mode is a combo of the aforementioned modes with very warm and natural light. Besides the standard settings, the lantern can go into the flashing mode.
No matter what brightness you choose, you can expect a long runtime of the device owing to the high-capacity 4400 mAh built-in battery. Taking into account the fact that this lantern uses a rechargeable battery rather than disposable ones, you can save money on the replacements in the long run. And if there's no power outlet nearby, you can juice it up right from your laptop. Moreover, when it gets full, it can itself act as a power source for your smartphone. So, if you're looking for a versatile, extra-bright outdoor companion, the LE high-power LED camping lantern is a stellar offering.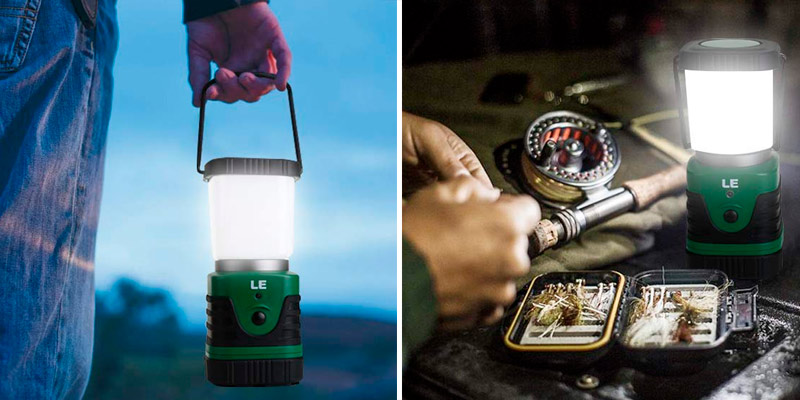 Additional Info
Last updated price

$

29.99

Stock
In stock
ASIN

B015ZFKLNK
---
Lighting EVER Waterproof Rechargeable
Etekcity CL30 2 Pack
It's All About Ergonomics
In case you're in the market for a super compact and portable lamp for your outdoor adventures, the Etekcity CL30 model is surely worth your closer attention. It's a unique lamp that folds down to just 5.39" and easily goes into a backpack pocket. Thanks to the collapsible design, this lantern is surely one of the best options for hikers that tend to pack light. One more thing that makes it even more appealing for backpacking enthusiasts is the fact that it has extra storage space under the cap where you can put your keys, tinder, or other small accessories you'd like to keep at hand.
When extended, the lamp provides very bright omnidirectional illumination. And thanks to the dimmer button on the side, it enables you to adjust the brightness for camping, reading, and other purposes. Just in case you need to free your hands for some involved task, the manufacturer has thoughtfully equipped the lamp with 4 magnets on the bottom. The strong magnets allow you to stick the base to any metallic surface at any angle you need. This way, you'll have not only a steady source of light but also free hands.
And if you're still not sold by this ergonomic lantern, we would like to bring up the fact that the box includes not one but two lamps. So, if you often travel with your spouse, this multi-pack will cover you both. Thought-out to the finest details, these lamps will make your getaways much more enjoyable and safe.
Additional Info
Last updated price

$

21.20

Stock
In stock
ASIN

B073P2MZ3Q
---
Etekcity CL30 2 Pack
Vont 4 Pack
Best Emergency Lanterns
No matter whether you need multiple lanterns for a big campsite or want to stock on some survival lights for your house in an emergency, hurricane, and power outage, the Etekcity company offers a great solution for you. This value pack includes as many as four bright lamps, each of which can easily light up an entire room. The LEDs are really bright and cover a full 360-degree range. With that, they don't get hot to the touch even with prolonged use.
Basically, the lamps come fully collapsed with metal handles fold down. To get the light, you need to unfold these metallic handles and pull them up, thus, revealing the LEDs. And when you decide to turn the light off, you simply need to push them close. Owing to this simple operation and lightweight construction, even young children won't have problems using it.
The only beef about the lamp is that it offers one bright setting with no in-between. However, you can pull the cap only halfway if you want to dampen the brightness a little.
On the upside, we would like to note that each lantern is handcrafted and meets the strictest quality standards. Also, all lanterns are covered by a lifetime warranty. So, you have nothing to lose by buying this generous set. With it, everyone in your house will have a reliable source of light.
Additional Info
Last updated price

$

27.99

Stock
In stock
ASIN

B00NPLSZF8
---
Vont 4 Pack
Odoland Portable
2-in-1 Camping Lantern
If you'd like to get the most out of your money, the Odoland pack is here for you. It's a revolutionary 2-in-1 product that works nor only as a bright LED light but also as a fan. And if you think that the small unit like this moves very little air, you'll be amazed by its performance. Sure, on the lowest setting, the fan creates just a faint breeze. But on the highest setting, you'll be able to feel the air on your face from 6-7 feet away. And that breeze is particularly important when the air gets inadequately hot. For your convenience, the unit either stands or hangs, while two hinges make it easy to orient the fan and light in separate directions.
Speaking of its illumination capabilities, we can admit that the lantern is quite bright. Fitted with 18 individual LED bulbs, it can light up a whole camper, tent, or even a small room in your house. When used as a lantern only, it can work up to 37 hours non-stop from a single set of batteries. But if both light and fan are operating, you'll get only 16 hours. Considering that the unit uses two old-style D cell batteries, we can assume it's not very economical. But if you get a set of rechargeable batteries and a charger for them, you can make things much better.
In all, if you often travel in summer and need a versatile space-saving solution, you'll be hard-pressed to find a better model than this. Combining a lamp and fan in a compact body, it may come to your rescue in many situations.
Last updated price

$

12.99

Stock
In stock
ASIN

B016HM7QRE
---
Odoland Portable
Stansport 12 inch Kerosene
Vintage Lantern
If you'd like to get back to basics and feel yourself like a camper from the 19th century, the Stansport 12" Kerosene Lantern is a great entry that may appeal to you. As the name suggests, it's a kerosene-operated vintage lantern that looks charming and performs even better. However, be ready that it might take you a little bit of time to get the hang of using it.

To light up this retro lantern, you should add approximately 4 oz of kerosene inside. It's better to fill it using a measuring cup and a funnel. After lighting it, you can use a wick to adjust the power of the flame and, accordingly, the brightness of the lantern. Surprisingly enough, this lantern gives off plenty of light and warmth, thus, creating a cozy ambiance in the room.
The lantern has a rugged metal construction coated with stylized red paint. The main part, the globe, is made of glass wrapped with protective wire. So, if you're looking for a durable, functional lantern to use at the campsite or to decorate your patio, this is a perfect fit. It will not only add a little retro flair to your place but will also provide you with light even if you have no access to the mains or batteries. Using 125+ year-old technology, it requires no electricity at all, while letting you enjoy old school woosh of those fire-breathing lanterns.

Last updated price

$

14.99

Stock
In stock
ASIN

B000K6FI7E
---
Stansport 12 inch Kerosene
What Is a Camping Lantern?
While the nighttime can be magical and romantic, the dark can be difficult and even dangerous to navigate. That's where a lantern comes in handy. It's an essential piece of camping gear that can light up your way. Also, it can act as a great emergency tool in case of a hurricane or blackout. Of course, simple flashlights and headlamps can light up your way as well. But if you need a hands-free illumination of your tent or a whole room, no other device will provide you with 360° lighting. Plus, camping lanterns are made either self-standing or hangable to cater to any need.
Camping lanterns have been around for centuries. Initially, there were just gas-powered models that run on liquid fuel and propane. But today, you can also find electric models that are more popular because of safety concerns, light weight, long life, and portability. Their sizes range from collapsible units that can easily fit in the pocket of your hiking backpack to those that are as big as a gallon jug.
The output of light is also different. The simple rule is - the higher the lumens, the brighter the light. Basically, flashlights that have less than 100 lumens are great for lighting a small tent, those with 200 lumens or more will be sufficient for a larger 4-person tent, and 300+ lumen models are bright enough for a campsite soiree.