Get some rest from a computer screen and go play a game of basketball right there at home. Outside or inside, near the pool, in front
of the garage, in a room or office. Now you can play it just about anywhere with a suitable hoop. Select a basketball goal with our review and enjoy the game!
...
Read more
...Read less
X
This site is a free online resource that strives to offer helpful content and comparison features to its visitors. Please be advised that the operator of this site accepts advertising compensation from certain companies that appear on the site, and such compensation impacts the location and order in which the companies (and/or their products) are presented, and in some cases may also impact the scoring that is assigned to them. The scoring that appears on this site is determined by the site operator in its sole discretion, and should NOT be relied upon for accuracy purposes. In fact, Company/product listings on this page DO NOT imply endorsement by the site operator. Except as expressly set forth in our Terms of Use, all representations and warranties regarding the information presented on this page are disclaimed. The information which appears on this site is subject to change at any time. More info
Silverback SB54CS
Basketball System Type
As the name suggests, Silverback is an in-ground basketball hoop system. It has already been mentioned before, but the hoops of this type are highly stable, and you can use them for small competitions the same as for a simple game with a couple of friends. This model of basketball goals is designed in a way to make it possible for the youngest basketballers to play with. Of course, the more experienced users will be able to use it, too. With an all-steel actuator, you will easily set the necessary height from 7.5" to 10". The pole is a 4" x 4" steel and is mounted into the concrete with 4 anchors. Just prepare the ground and you are ready to install the hoop.
Backboard and Hoop
This basketball goal's 54" x 33" backboard is big enough for a company of friends to play comfortably on a street court or in a backyard. The 48 mm tempered glass used for manufacturing makes this one of the best basketball hoops in terms of the rebound. It's almost as a professional one! You will have a lot of fun with your friends playing with this basketball goal. The hoop itself is of the standard diameter (18"), so a usual basketball will be suitable. And the net is made of an all-weather material and will serve you for many years.
Extras
A wide variety of enhancements were implemented to make the performance of this basketball system one of the best on the market today. The hoop is attached to the backboard with a spring-loaded bracket. This way, even if you hang on the hoop after performing a marvelous dunk, the hoop will not be torn from the board. The backboard bottom edges have soft covers, making a lay-up and a jump for a rebound as safe as it is possible. The pole is covered with DuPont® powder coating to avoid damage from corrosion and UV rays. Additionally, you will find here an Anchor System to quickly unmount the basketball hoop if you are moving out and willing to take it with you.
Last updated price

$

0.00

Stock
May be out of stock
ASIN

B06XV9MWSC
---
VIDEO
Silverback 54 inch In Ground Basketball System REVIEW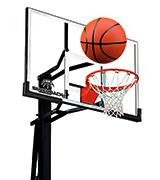 Silverback SB54CS
Spalding 79564
Basketball System Type
As you can, probably, see, the Spalding Backboard and Rim Combo with Acrylic Backboard are designed to be mounted to a wall. A lateral wall of your house or a space over the garage door will be perfect for this task. Just note that the wall should be durable enough. Also, if you already have a basketball system but the backboard is damaged or too old, you can replace it with this new one. The adjustable hanger is sold separately. As this is a wall-mounted basketball hoop, you can fix it at any height you like, but we recommend you to follow the ASTM safety standards and not hang the hoop lower than at 7.5".
Backboard and Hoop
Spalding made the backboard for this basketball goal of acryl to combine a good rebound with a great durability. The size of 54" x 33" is the golden mean of a sort, it allows you to throw the ball from any angle but at the same time it takes up a moderate amount of space. The hoop and the net are standard 18", so a usual basketball will do. An all-weather net is waterproof and capable of withstanding UV rays, therefore, you will use it comfortably throughout several seasons.
Extras
Keep calm and jump for the rebound. Or do a layup. The bottom edges of this basketball goal have soft covers to protect you from any injuries when you play under the hoop. The Arena Slam hoop is attached to the backboard with a spring-loaded mount. This way, the weight of a player hanging on a hoop after a splendid dunk is slightly dissipated so the backboard will not shatter and you won't be injured with shards. And the aluminum frame will protect the corners from cracking when the ball hits there constantly.
Last updated price

$

278.89

Stock
In stock
ASIN

B002C3DDFM
---
Spalding 79564
Lifetime 1221
Basketball System Type
Lifetime 1221 is a portable basketball hoop. These basketball hoops are perfect for home use. You can mount them just about everywhere on a good day, and hide in your garage when the weather gets too bad. Also, if you go on a holiday somewhere, you can take this portable basketball system with you. The pole is a 2.75" steel and has a great rigidity. Quickly change the height from 7.5" to 10" in 6" increments and then back when you and your children play in turns.
Backboard and Hoop
This 44" x 29" basketball system features a backboard made of very thick polyethylene. It is so durable, crack- and chip-resistant, as well as weatherproof that it's practically unbreakable. These portable basketball hoops are even resistant to UV rays. While the rebound may be slightly inferior to the glass or acrylic basketball backboards, it is still good enough for an amateur player. A big 18" rim allows using a standard ball for a game, and a synthetic net will look as new for quite a time.
Extras
The wide heavy-duty base stays firmly in place. Fill it with 27 gallons of water or sand and it will endure wind gusts and ball hits. The main pole is made of steel and covered with powder finish that makes it weather-resistant and really durable. There are two wheels on the front part of the base to easily move the whole basketball system wherever you want. Just tilt it a little to the front and it is ready to go. It's more than simple!
Last updated price

$

117.50

Stock
In stock
ASIN

B0007RALHS
---
VIDEO
Lifetime Portable Basketball Hoop (Model 1221)
Lifetime 1221
Dunnrite Products Splash and Shoot
Basketball System Type
Dunnrite Products Basketball Hoop is intended for being used near your pool. Having this basketball goal, your pool will be transformed from a simple relaxation point into a water game area. That's a whole new level of fun! You will be able to play with your friends without having to leave the cool water. The rim height is adjustable and can be set at up to 56" above the pool deck, so adults and children will have an equal chance to play.
Backboard and Hoop
The high-quality polyurethane this basketball system backboard is made of is completely waterproof and fully protected against any impurities or mixtures that can be in the water. Moreover, it is UV-resistant. Owing to a slightly curved backboard shape and a rounded upper part, these pool basketball hoops make the ball rebound back into the pool instead of falling on the ground beyond your reach. The rim here is 18", meaning it is intended for a standard ball, however, for aquatic games, we would suggest you buy smaller and lighter ones, designed specifically for being used in water. Dunnrite Products offer a wide variety of such balls.
Extras
A wide base is big enough to contain up to 25 gallons of water. When filled up, it weighs 200 pounds, so the whole thing will be absolutely stable on the edge of your pool, not moving an inch. The main pole is performed in aluminum and coated with special powder paint that protects it from water and corrosion. The basketball hoop rim is a steel one, covered with acrylic paint. All other parts are stainless steel, making this one of the best basketball hoops to have for years and years.
Last updated price

$

294.99

Stock
In stock
ASIN

B000QZ6JWM
---
VIDEO
Amazing Pool Basketball Dunks (The Best Of)
Dunnrite Products Splash and Shoot
SKLZ Pro Mini
Basketball System Type
SKLZ Pro Mini Basketball Hoop is usually hung on the door, but you can purchase several bearings additionally to fit this indoor basketball hoop on a wall or a portable room divider. Place it on the door to your children's room for them to play, or mount it in your office to help your co-workers relax during a break. This mini basketball hoop is so lightweight and compact that you can use it virtually anywhere.
Backboard and Hoop
The backboard of this indoor basketball hoop is 18" x 12" heavy-duty unbreakable polycarbonate. This material is known to be highly resistant to impacts and to not chip at the corners, so you and your kids or friends will be perfectly safe. The metal rim is very sturdy, you will have a hard time trying to break it. The diameter of the rim is 9", so an 8" mini basketball will be perfect here. The net is made of nylon, it is really strong and you will not need to replace it for several years.
Extras
The two metal hinges for hanging this mini basketball hoop on your door are coated with soft foam, therefore, your door will go unscratched and the backboard will stay in one place instead of moving along the edge. The rim with a net is secured with a spring block smoothening the vibrations, meaning the backboard will not break even if someone hooks the net during a game. Additionally, the manufacturer provides a very handy 5" ball to go with each of these wonderful indoor basketball hoops.
Last updated price

$

29.99

Stock
In stock
ASIN

B001I912SQ
---
VIDEO
Pro Mini Hoop Indoor Basketball Hoop by SKLZ
SKLZ Pro Mini
What is a Basketball Hoop
Everybody plays basketball. Or nearly everybody. A lot of people do, really. Basketball is one of the most popular sports for kids and adults. Pick any school or college and the chances you will find a basketball team there are extremely high. There are people who can't imagine their life without a basketball match at least once a week. And we are not talking about professional basketball players. Anyone can be that passionate player — your friend, your neighbor, your boss. Or you yourself! Even if you have never played basketball professionally but you love the game with passion, you can just make your own small basketball court, put a hoop there, and here you go! A quick game or two makes a great change, it improves the mood, makes you tear yourself from a computer screen, and keeps your body in a perfect shape. It's one of the fastest ways to make friends, because let's face it — what can be more bonding than a little friendly competition?
Nowadays the selection of basketball hoops is blinding. You can play literally anywhere: on a small court behind your garage, in your own room, even in a pool at the back of your house. We have decided to help you make the best choice. Here is a review of basketball systems we consider the best in their class. Look through it and pick the one that suits you best.
If you are deep into sports and engage yourself in a variety of activities, you may be interested in our review for gym bags to carry your uniform and towels when you go for a training session. Whatever you do — stay fit and healthy!
What Features to Compare
So, what to do if the variety of basketball hoops you see on the Internet or in a sports store is making you dizzy and you get lost in options? How to make the right choice? Well, let us be your guides. Trust us, we know what we are doing.
First, we recommend you to decide where you intend to use your basketball hoop. Outside? There are portable and in-ground models. Or you wish to hang the basketball goal in your room or office? Then give wall-mounted ones a go. Each one is good for a particular activity. That's the Basketball System Type for you. Okay then, let's go?
In-Ground basketball hoops are installed on the specifically prepared concrete ground and must be securely mounted with anchors. These basketball systems boast the highest level of stability and reliability. They are the best choice if you are going to play at a remote spacious ground or if the area near your garage allows you to play basketball.
Portable models are, well, portable. In appearance, they look a lot like in-ground ones, but you can move them around. You won't need a specific place for these basketball goals, just put theme wherever there is enough space to play. The wide base filled with water or sand will make the whole thing stable. More often than not these models have wheels for additional convenience for you to move them. Portable basketball hoops, in their turn, can also be divided into two types, those suitable for any hard surface (so you can take them when you go on a family holiday) and those you can place near your pool. The latter are manufactured from waterproof materials to be placed close to water.
Wall-mounted basketball goals are basically only the hoop and the backboard that can be mounted on any smooth vertical surface capable of holding their weight. They can be of a standard size or represent the so-called

mini basketball hoops, which you can hang on your room or office door. The application scope for such basketball systems is wide, from a game in front of a garage with a hoop over the garage door to just throwing paper into the hoop attached to the door.
The generally accepted height for a basketball hoop starts from 7.5 feet. This is made with the idea that if you set the hoop lower someone may hit their head when jumping for a dunk. Wall-mounted basketball goals can be mounted at any height, but we still recommend you to follow the commonly used one.
Done with that? Let's proceed. The Backboard and Hoop. The backboard materials vary from high-end glass to polycarbonate, and even plastic. You will get the best possible rebound on a glass basketball backboard, these are used in pro baskets. But other materials also have some advantages, such as durability. And a slightly inferior rebound is still not half bad. No basketball hoop manufacturer would use a material that provides bad rebound. That would be ridiculous, right? So, don't discard everything that is not glass. You can still find your perfect basketball system. Next, there is also the backboard size. That's an issue of pure convenience. A larger backboard obviously needs more space, so see to it that you have enough. The hoop itself is generally 18" in diameter, that's the standard for your average basketball. But there are mini basketball hoops too, for smaller balls. Remember to regard the size. Better safe than sorry.
And the last point on our checklist, of course, will be the Extras. What do you need extras for? Well, they often simplify the basketball system use and add to the safety. For example, if your basketball goal backboard has plastic covers on the edges, you will be less likely to receive a severe injury playing rough and hitting your head. A spring-loaded hoop will decrease the possibility of it being torn from the backboard and the same backboard being broken with a powerful dunk. A variety of coatings for metal parts can make those parts weatherproof and prolong their lifespan. Anchors and brackets will provide quick disassembling and comfortable transportation of your basketball hoop system.
Below, we would like to show you the examples. These are the five best basketball hoops we have found after researching the topic for some time. We are sure you will find them great too and, possibly, even decide on buying one of them. We wish you the best of luck. Hone your skills and enjoy the game with the best possible basketball hoops.