Our pets mostly like to be fed on a schedule but their schedule doesn't always align with ours. An automatic pet feeder can change
that all. There are many models on the market that can dispense food either once the bowl becomes empty or on the pre-set schedule. No matter what type of feeder you choose, you will have peace of mind knowing that your small friend is happily fed.
...
Read more
...Read less
X
This site is a free online resource that strives to offer helpful content and comparison features to its visitors. Please be advised that the operator of this site accepts advertising compensation from certain companies that appear on the site, and such compensation impacts the location and order in which the companies (and/or their products) are presented, and in some cases may also impact the scoring that is assigned to them. The scoring that appears on this site is determined by the site operator in its sole discretion, and should NOT be relied upon for accuracy purposes. In fact, Company/product listings on this page DO NOT imply endorsement by the site operator. Except as expressly set forth in our Terms of Use, all representations and warranties regarding the information presented on this page are disclaimed. The information which appears on this site is subject to change at any time. More info
PETLIBRO (PL-AF001-01W)
Ultra Sophisticated
As smart pet feeders are extensively growing in popularity, PETLIBRO has come up with a sophisticated model that deftly combines simplicity and functionality to help you and your pet have a better life. It's a smartphone-compatible and programmable upright feeder that can dispense food into the bowl according to the pre-set schedule. It offers four customizable feeding times and lets you choose how many portions to dispense per meal. Portion sizes are consistent and easily adjustable to suit the diet of your cats or dogs. And even when dispensing 20 portions per day (4 meals per day, 5 portions per meal), the PETLIBRO feeder holds a week's worth of food. With that, you'll be able to easily set the needed time, meals, and portions owing to the intuitive control panel with an LCD screen.
What also makes this feeder a pleasure to use is its ergonomic design. The dish is wide and deep enough so that kibbles don't fall out easily when pets are eating. Also, the feeder prevents cats from knocking it down and stops excessive eating. This is largely achieved thanks to a secure lid that requires both your hands to press on the sides to open. So, even if your four-legged friends will try to nudge and open it, they'll fail.
For Long Journeys
What makes the PETLIBRO Automatic Cat Feeder such an attractive choice for busy families is the fact that it can hold up to 4 litres of pet food (the 6-litre option is also available). Therefore, if you often go on business trips, you can rest assured knowing that your cat is happy and healthy. Moreover, you can be sure that dry kibbles remain fresh due to the inclusion of the exclusive desiccant bag into the set, which is a very nice touch since companies rarely care about such small but important details.
Another thing that adds extra points for frequent travellers is the dual power supply. Actually, the feeder is powered via a 5V DC adapter but has three backup alkaline D-cell batteries. So, even in case of a power outage, you can be sure that your little friends will still get their food consistently. In addition to that, the PETLIBRO automatic pet feeder can enhance the bond with your pets by offering a 10-second voice recording clip, allowing your pet to feel well-cared and safe when you're away from the home.
All this surely makes the PETLIBRO model an appealing choice for those who travel a lot and want a highly functional feeder with a nice array of features.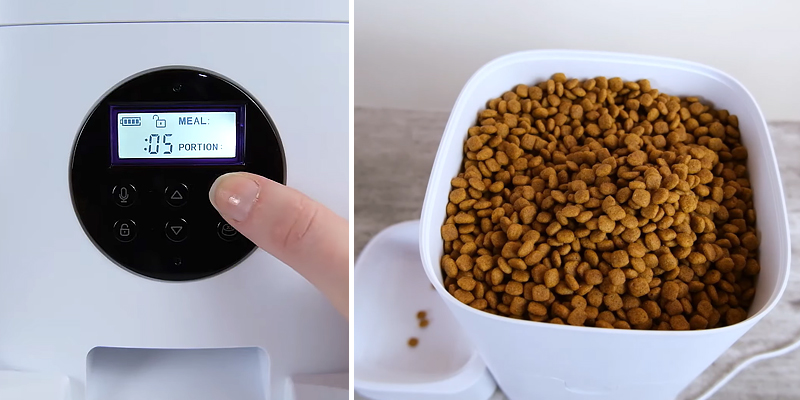 Additional Info
Last updated price

$

67.99

Stock
In stock
ASIN

B0854HDNHN
---
PETLIBRO (PL-AF001-01W)
PetSafe PFD00-15788
For Any Need, For Any Breed
Today, in our busy word, we can't always be home on time to feed our furry friends. However, since we're always with our smartphones, we don't need to worry about our pets anymore. No matter whether you're late at work or stuck in traffic, you can be sure that your pet isn't left to the mercy of fate. PetSafe has produced the Smart Feeder to bring pet feeding to the whole new level. This product can dispense pet food on-demand any time you want, granted that it's connected to Wi-Fi. The dispenser is compatible with the Smart Feed app to help busy pet parents set and monitor their pet's meals from anywhere, anytime.
The setup is quick and easy - you simply need to download the app to your phone and connect the feeder to local Wi-Fi. Once you're done, you can schedule the unit to dispense up to 12 meals a day with portions from 1/8 to 4 cups. As we have already mentioned, you can also dispense meals on-demand. The "Feed Now" option works both from the app and at the push of the button (on the feeder). Another notable option is "Slow Feed". If you choose this mode, the feeder will release one portion gradually during 15 minutes. This feature is especially useful for fast eaters that gulp and vomit.
Ultra Reliable Design
This feeder is really suitable for any breed since it has a unique conveyor design that can dispense most shapes and sizes of pet food. And the best part is that it can deliver both dry and semi-moist food without jams. The unit is also completely pet-proof, so prying paws won't be able to sneak food in any case.
As far as the item design is concerned, you'll also get the benefits of dishwasher-safe parts. The lid, hopper, bowl, and bowl holder can be safely cleaned at the top shelf of your dishwasher, which facilitates cleaning a lot.
Yet, the item is ultimately reliable not only from the outside but from the inside as well. If the power goes out, you can rest assured knowing your precious pet has been fed. The PetSafe Smart Feed uses a battery backup (requires 4 alkaline D-cell batteries) to continue dispensing food up to 7 days after a power outage. And if your home Wi-Fi connection is lost after the power cut, the unit will continue to feed your pet on schedule. So, if you happen to be away from home for quite a long while, the PetSafe Smart Feed will never let you and your pet down. Actually, it's one of the most reliable models on the market!

Additional Info
Last updated price

$

169.95

Stock
In stock
ASIN

B073WYP317
---
PetSafe PFD00-15788
AmazonBasics Self-Dispensing Gravity
Cheap Yet Effective
Need a simple feeder that won't cost you a fortune but will always provide your lovely pet with food and water? The AmazonBasics Gravity Pet Feeder and Waterer Bundle is your choice. For less than $25, you can get the set of two automatic feeders, one of which can be used as a water supply.
Unlike more pricey models, these feeders don't have microcomputers and can't be pre-programmed. They simply release kibble or water into the bowl, using the gravity to ensure a fresh, consistent supply.
The feeder can hold up to 12 lbs of dry pet food, while the waterer can hold up to 2.5 gallons of liquids. Both units have an extra-wide mouth for hassle-free re-filling. Such large capacity is great for large breeds and for multiple-pet homes. However, if you wish, you can get a smaller set or get a feeder or waterer separately. Although they both are available in marble coloring only, they have a plain design with smooth contours to become a nice-looking addition to any home.
Simple yet efficient, these dispensers will keep your small friend fed and healthfully hydrated. For the price, it's a real bargain you can't miss.
Stable Design
Although you might expect a low quality of such an inexpensive feeder, in reality, it's quite stable and durable. It has non-skid rubber feet that prevent the unit from sliding or scooching across the floor. It remains in place and even doesn't wobble even if your Fido is going nuts a bit.
The feeding station itself is designed with a PP top lid and base and has a transparent PET food-storage hopper. This way, you'll be able to check the food/water level at a glance. Another nice design solution is convenient cut-outs on each side. Cut-outs along the base serve as integrated side handles and enable you to easily grab and lift the unit up/off the floor for cleaning. By the way, the cleaning is very simple and quick. The wide-mouth design ensures easy access to all the components, inside and out. Since there are no electric parts in it, you can wash just everything with warm soapy water. 
All in all, if you need a simple large-capacity pet feeder or waterer that requires low maintenance, it might be your perfect pick.
Last updated price

$

34.99

Stock
In stock
ASIN

B06ZY6Q66G
---
AmazonBasics Self-Dispensing Gravity
WOPET 7L
Nothing Extra
The WOpet automatic pet feeder is a frills-free model that still works like magic - it keeps your pet fed all day long no matter where you are. It's a fully automatic model that can dispense food up to 4 customizable times each day. It has a large storage compartment that holds up to 20 cups of dry food (pellet size from 0.2-0.6 inches in diameter). Both the main storage compartment and the plastic feeding tray are removable and dishwasher-safe for easy cleanups.
The WOpet feeder is sleek and simple with a neutral white body. It has compact dimensions (9.8" x 13.7" x 15.3") and can fit perfectly any kitchen decor. Of course, it's not as sophisticated on the outside and inside as premium models, yet it's much cheaper.
Being quite reasonably-priced, it can still help you to establish a regular eating routine for your pet and keep his or her digestive system healthy. If you don't want to pay extra money for extra frills but want to feel confident about your pet's nutrition anytime, don't hesitate to choose this.
At a Touch of the Button
Though the feeder isn't compatible with any app and can't be controlled via your smartphone, it's fairly easy to program for a whole day. It features a handy control panel with an LCD screen and button pad allowing you to program each meal time with just a few clicks. The feeder allows you to schedule up to 4 automated feedings per day thanks to the built-in programmable timer. Also, you can control food portions from 2 teaspoons up to 4.5 cups depending on your pet size and needs (the main compartment can hold 20 cups of dry pet food maximum). The same control panel also enables you to record a message for your pet (10 seconds maximum) that will be played with each meal to keep your small friend excited and less stressful because of your absence.
Like more expensive automatic food dispensers, this one has a backup battery (3 D-size batteries) to ensure your pet will be fed even in case of a power outage. All this makes the WOpet pet feeder a very competitive model that won't cost you a fortune yet will keep your pet well-fed throughout a whole day.
Additional Info
Last updated price

$

72.99

Stock
In stock
ASIN

B075CXMJB5
---
WOPET 7L
PetSafe 5-Meal
Total Independence
The PetSafe company has been a leading US manufacturer of pet supplies since 1991, helping millions of pet owners find the right product for their needs. And today the brand offers you a compact, battery-powered pet feeder that costs just a fraction of other big names.
This feeder has a bit different principle of operation compared to other models on the market. Actually, it doesn't dispense pet food - it stores everything in 5 different chambers and opens them one by one at a pre-set time. The feeder has 5 one-cup sections for dry or semi-moist food that move like a carousel - when it's time for the next feeding time, the dish part of the feeder rotates to reveal the next portion. This also allows you to control each portion, which is especially important for pets on a diet. Also, thanks to this design, you can be sure that the food won't get hard and stale on top like it might happen if it's sitting out in a dish for hours.
The feeder is very easy to program following the clear instructions. And once you're done, you won't need to re-program the machine unless it runs out of power completely. It has no wires (=no mess) and requires 4 D batteries as a power source. Though note that the batteries aren't included in the box and you'll need to buy them beforehand. If you're going to use the feeder daily, it's better to choose rechargeable batteries. This way, you'll save much money in the long run.
Safe and Loud
This automatic food dispenser is very stoutly-built, so you can rest assured knowing that your pet will neither tip it over nor open and get into it. The only slight flaw that might sour your and your pet's impression is the loud sound and the action of rotation. So, if you have a very sensitive baby, this feeder might seem even scary for him for a couple of days. But once he gets used to it, many problems will be automatically solved. For example, if your pet usually wakes you up early in the morning begging for the breakfast, this automatic feeder can provide a sweet relief for you. No more following you around whenever you're (even in your bed). Just program the unit beforehand and your Fido will see it as his food source instead of you.
As you see, this simple 5-tray PetSafe feeder with a timer can work for different situations. Not only when you're forced to spend time away from your cozy home!
Additional Info
Last updated price

$

44.95

Stock
May be out of stock
ASIN

B000GEWHNS
---
PetSafe 5-Meal
Infographics
---
What Is an Automatic Pet Feeder?
Like any pet owner, you probably care a lot about the health of your furry friend and strive to balance his or her diet. But what to do if you stuck in traffic or need to stay late at work? Or probably you even need to take a short break away from home without your pup? An automatic pet feeder is a life saver. It can provide you with an easy way to feed your pets when you just can't be there to feed them by yourself. In other words, it can serve timed, controlled portions for your pet when you're not at home. Also, it can double as a "nutritionist" for dogs with some digestive disorders - since the pet feeder can be pre-programmed to dispense the right amount of kibble according to your pet's age, weight, and activity level, it can help your pets lose some weight. Moreover, some units have a special mode that releases pet food at a slow pace, which is especially useful for fast eaters prone to gulping and vomiting. Automatic feeders can also provide a bit of motivation or stimulation for pets left home alone - many models record and then playback messages for your pups (though, you can also use dog cameras for that purpose). As you see, the possibilities of feeders are almost endless. So, keep on reading and discover more.
What Features to Compare
Type
There are two basic types of automatic feeders with many variations - gravity pet feeders and electronic pet feeders. The first option is less sophisticated yet much cheaper. As your dog eats, it simply dispenses food from the hopper into the bowl, using gravity. These feeders just replenish what has been eaten, and once the bowl is full, they stop releasing food. They are pretty straightforward and require no mess with wires and pre-programming. However, the flipside to this is that pets get the unrestricted access to food, which might lead to overeating. So, if your pet has some health conditions like obesity, it's definitely not your choice.
Electronic pet feeders are real game changers. They allow you to totally control how much and when your Fido eats. You can schedule feeding times and set portion sizes using a control panel or your smartphone. The smartest models have special apps for phones, allowing you to change settings when you wish using your personal phone. They even allow you to feed on demand when you're far away from home. And once your furry friend is happily fed, you'll get a notification.
Electronic pet feeders are perfect for weight control or handling some health conditions like hypoglycemia, pancreatitis, or diabetes. They help your pets eat a balanced diet and promote easy digestion accordingly. The major flaw in them is their price. Reliable, good-quality electronic feeder cost much more than gravity feeders.
Size
That's the case when the size matters. A typical mistake many pet owners make when selecting an automatic feeder is not thinking about the size of their pet's food. It's really important to know what type of food your pet eats and what type of kibble the feeder can accommodate. Some models can handle different sizes of kibble, and some feeders can even hold semi-moist food. As for the main chamber, you should choose its size depending on your pet's breed and age. It would be nice if a feeder could hold a day's worth of food at least.
Security
Don't skimp on a feeder and choose high-quality, air-tight, and secure models made of pet-safe materials. Poorly-constructed feeders might let your curious Fido break through and access food, especially if he or she is a heavy chewer. Look for secure locking systems to keep out the curious paws. Also, don't neglect the bowl's design. The feeding dish should be made of non-toxic and sturdy materials to hold up to heavy chewing. Stainless steel would be perfect. It's a very durable, rust-resistant, and hygienic material.
If you're choosing an electronic pet feeder, another thing to consider is the backup battery availability. Make sure that the feeder has a backup battery that will provide power in case of a power outage. This way, you'll be sure that your pet is always fed no matter the circumstances.
Extras
Sophisticated models have quite a lot to offer. For example, they allow you to pre-record messages for your pet to call him for breakfast or dinner. Some feeders can even calculate the right amount of food for your very pet, while others can even re-order food once it runs low.
Did you know?
Cleaning Pet Supplies Is Essential
Don't forget to wash your pet's food and water bowl timely. Veterinarians recommend cleaning bowls with dish soap on a daily basis since dirty bowls might negatively affect your pet's health. The bacteria buildup can cause different illnesses from a mild upset stomach to diarrhea. And rehydration is especially critical for our small friends.
Fresh Food Is Always Better
Just like people, pets feel the difference when they eat meals made from fresh ingredients. They also absorb more nutrients from gently processed food. So, try to feed your pets with "real" meals as frequently as possible and turn to kibble only when you're going out. Choose dry food that doesn't go through extreme processing and contains plenty of vitamins and minerals. You can find premium dog food here.

Remember that some foods are prohibited for pups. Stay clear of chocolate, onion, grapes, macadamia nuts, and bones! Despite popular belief, bones are not for dogs! They can puncture your pup's intestinal tract or even cause pets to choke.
Signs Of a Food Allergy
If you're not sure whether your pet has a food allergy, check out these signs:
Excessive flatulence;

Diarrhea or loose stools;

Hair loss and bald patches;

Itchiness;

Skin rash and irritation;

Chronic licking, biting, or chewing;

Vomiting;

Frequent ear infections.
If you notice at least a couple of these symptoms, we recommend you to visit your veterinarian to determine if they might be caused by food allergy. Just like people, some pets can't tolerate grains and gluten, as well as some other pet food ingredients. So, it's better to determine what really to blame. Always stay in touch with your vet and consult him or her if you want to make some changes in the diet.
Find the Optimal Portion
Numerous studies have shown that proper weight can add up to 20% to the life of your pet. So, knowing how much food your pet needs is crucial if you want more time with him/her.
Most pet food brands just give a range based on your pet's current weight. But your dog's age, breed, and activity level also matter. Consult your vet or consult one of the aforementioned smart apps to figure out your pet's unique caloric requirements.
Always Keep Your Pet Hydrated
This is especially true for dogs. On average, they need somewhere between a half and a full ounce of water per each pound of their body weight daily. But if your Fido is overly active or you live in a hot climate, even more.