Acoustic guitar strings can easily make or break both the best and the most underwhelming acoustic guitars. The best acoustic guitar
strings do not just sound great though, they also maintain that sound without breaking early.
...
Read more
...Read less
X
This site is a free online resource that strives to offer helpful content and comparison features to its visitors. Please be advised that the operator of this site accepts advertising compensation from certain companies that appear on the site, and such compensation impacts the location and order in which the companies (and/or their products) are presented, and in some cases may also impact the scoring that is assigned to them. The scoring that appears on this site is determined by the site operator in its sole discretion, and should NOT be relied upon for accuracy purposes. In fact, Company/product listings on this page DO NOT imply endorsement by the site operator. Except as expressly set forth in our Terms of Use, all representations and warranties regarding the information presented on this page are disclaimed. The information which appears on this site is subject to change at any time. More info
VIBE Strings 80/20 Bronze
Passing all the Vibe Checks
The Vibe Strings 80/20 Bronze Acoustic Guitar Strings will make even non-believers vibing like there's no tomorrow. From where we're standing, these hexagonally-shaped, high-carbon steel core strings are passing all vibe checks.
To start with, featuring cryogenically-tempered wire wrapping and resistant against corrosion, these heavy strings will not break anytime soon. To continue, the strings are awesome at mixing expressive, bright highs with deep bottom ends, accommodating heavy strumming and flat-picking styles alike. To keep on going, individually labelled, these bad boys enable easy restringing inside this corrosion-resistant vacuum.
To drop this gimmick, we can say that the strings are not easy to criticize. Sure, they have more buzz notes than most, so beginners will find them difficult, but this is always the case with heavy strings, so we cannot relly condemn them based on this issue. Plus, adding to the strings, the people behind this kit are also sending you 9 free picks.
Bottom line, assuming that this isn't your first rodeo, the Vibe Strings 80/20 Bronze Acoustic Guitar Strings will fit you like they fit top guitarists all around the globe. They keep the resonance twangy and the overall sound bright yet balanced.
---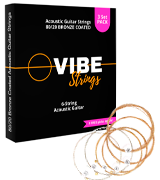 VIBE Strings 80/20 Bronze
Elixir 80/20 Bronze POLYWEB Coating
POLYWEB™ Coating
The Elixir 80/20 Bronze Acoustic Guitar Strings are among the most popular acoustic strings and the secret behind the line's success is primarily the POLYWEB™ coating. Unlike NANOWEB, this coating approach warms and mellows the strings' tone, giving them this fast yet slick and soft tactile impression that is easy on the fingers so that the players can continue jamming without experiencing any pain at all.
Thanks to the coating, the strings produce the sound that's both warm and robust, offering this "played-in" tone that has an excellent mid-range presence but without making the highs too bright. Some find the tone a little inconsistent though, so you can take that as you will.
What is consistent is the aforementioned coating protecting the strings from sweat, debris, and corrosion, making sure that the sound does not change with time and that the strings do not easily break. What's also consistent is the nickel-plating treatment underneath the coating, making sure that the strings do not start forming rust patches eventually.
All things considered, players that prefer their guitar sounding warm and mellow rather than crisp and ringing will definitely appreciate the Elixir 80/20 Bronze Acoustic Guitar Strings.
Elixir 80/20 Bronze POLYWEB Coating
Ernie Ball Earthwood Light 80/20 Bronze
Consistently Excellent Intonation with Pleasing Overtones
The Ernie Ball Earthwood Light Strings will equally suit newbies and veterans. Featuring lock twists throughout the entire length, the strings are securing the wire around the ball end, minimizing slipping and extending the strings' service life. To add more, precision-wound, these things are making the sound crisp and ringy, with excellent intonation, almost unmatched consistency, and balanced yet pleasing overtones.
Now, even though the above-mentioned lock twists are contributing towards the durability cause, the high E string break/tears pretty easily, so we would recommend exercising caution with this one. On the upside, you do not have to be cautious transporting and storing these strings, with the ElementShield™ packaging preventing them from forming rust patches.
Last but not least, incorporating brass-plated, high-carbon steel hex cores, these strings will not start showing corrosion sings anytime soon and, besides the high E, will not even start thinking about breaking within the first few months.
In short, the Ernie Ball Earthwood Light Strings will not leave you wanting more. With these strings, the high end will ease back without appearing strident and metallic, with noticeable supporting mids and audible harmonics.
Ernie Ball Earthwood Light 80/20 Bronze
D'Addario EJ34 80/20 Bronze/Black Folk Nylon
Nylon String Acoustic Guitar
The D'Addario EJ34 80/20 Bronze/Black Folk Nylon Guitar Strings are the only nylon strings we've added to the list because, generally speaking, the nylon ones do not last and the sound they produce can seem a little dull. This is not necessarily the case with these strings though.
Sure, they're also warm, mellow, and balanced, not unlike most nylon strings. But, featuring bronze coating, these strings do not start breaking during the first ~3 months, so this is where similarities between them and everyday nylon strings end.
To some extent, the coating also makes tuning these strings a little more difficult than most. But, using the instructions that are shipped with them, even the least experienced guitarists should manage.
Nylon strings are not as susceptible to corrosion as steel strings but they're not immune to it too. That said, with the company's trademark corrosion-resistant packaging, you can store and transport these strings without worrying about them corroding.
To sum up, those guitarists that enjoy playing classical, flamenco, and folk music more than rock, blues, and country cannot go wrong with the D'Addario EJ34 80/20 Bronze/Black Folk Nylon Guitar Strings. Also, newcomers will appreciate the strings being easier on the fingers than their steel counterparts.
D'Addario EJ34 80/20 Bronze/Black Folk Nylon
Martin Authentic 92/8 Phosphor Bronze
Consistency above Everything Else
The Martin Authentic Acoustic Guitar Strings are the cheapest acoustic strings we could find that were not downright terrible. At this price, most strings are not delivering, to say the least. These ones though are not bad. Yes, some might find the sound that these strings produce a little dull but this is also because the strings remain consistent, not wavering, not rolling off the highs, not downplaying the lows. The idea here is that you can rotate songs, genres, even different play styles knowing that you can count on the strings, knowing that the tone will remain consistent.
More often than not, strings that cost less than 10 bucks do not even last 3 months. Made from high-tensile steel, the core wire achieves the opposite effect, with tin plating and phosphor bronze coating ensuring tuning stability and shielding the strings from corrosion.
Besides everything that we have outlined above, string tension here is medium and the texture is also medium. The strings might leave black marks on the fingers but most strings will do that initially.
While the mid tones are a little weak, low E, A, B, and high E strings sound bright without buzzing, so we would recommend these strings to most amateurs and intermediate players.
Martin Authentic 92/8 Phosphor Bronze
What Are Acoustic Guitar Strings?
Talent versus practice, technique versus equipment, accessories versus skills, you can discuss what is more and what is less important all you want, we like to believe that you cannot go wrong polishing both. Sure, buy the most expensive instrument you can, it will still sound unremarkable when played by someone who has no skill, no talent, and no passion. At the same time, even the most talented musicians with the most impressive technique do not sound that great playing second-rate instruments. Besides, this is not always about the price.
Take these acoustic guitar strings, for example. They're not expensive strings, not at all. Nevertheless, they're able to produce awesome sound. Some strings are bright and expressive, some are crisp and ringy. Some are warm and mellow, some are robust and zingy. Despite these differences, all strings on this list share certain similarities: they're easy on the pocketbook, more durable than most, and, generally speaking, do not treat the fingers with the same animosity that cheap strings usually display towards that body part.
The strings that we have listed here all fit these acoustic guitars, so we would recommend looking into them first, assuming you haven't already bought a new guitar recently. If you have, we can instead recommend these clip-on guitar tuners.
By the way, those who side with electric guitars, do not fret, with these electric guitar strings, we have you covered as well.