CucinaPro

150

Imperia Pasta Machine w Easy Lock Dial and Wood Grip Handle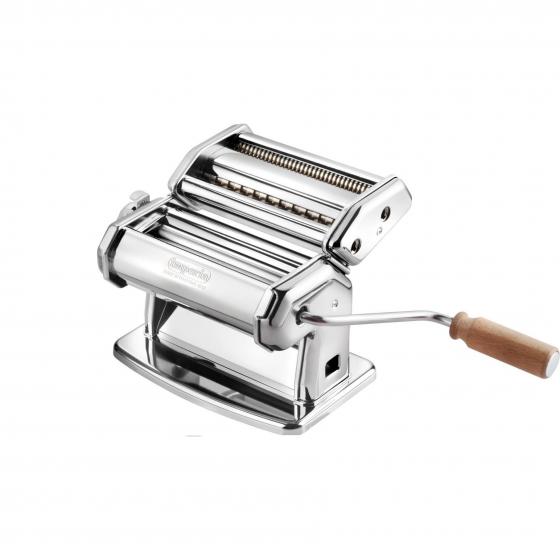 General Specifications
Traditional pasta roller lets you make the freshest pasta you've ever tasted right at home. Made of heavy duty, shiny, chrome-plated steel, the 6-inch wide roller with double cutter head makes thin spaghetti and wide fettucini noodles with an easy-lock adjustment dial and a wooden grip handle to easily crank out dough. Additional attachments for a variety of noodle shapes are available separately.
Size & Weight
What customers say about "Size & Weight"
It is rugged and durable very easy to use and makes excellent pasta sheets and spaghetti. Great gift idea for those who love to eat
This is very well built and very durable.
It is stainless steel and very durable looking.
The white plastic inside is not durable.
My main gripe about this product is that the plastic inside that houses the spinner is not durable.
Features
No, From 0.2(mm) to 2.2(mm)
Number of Thickness Settings
Combined cutting roller, Additional attachments available
What customers say about "Features"
Easy to use and very even thickness on the dough rolled. The cutter works perfectly too.
It makes a variety of widths and thicknesses and is rather easy to use.
Changing the thickness of the dough is easy, thanks to a simple-to-use dial.
I just wish I could put it in the dishwasher to clean it.
Only problem is the #1 setting is too thick.
Accessories
What customers say about "Accessories"
The pasta machine came with a recipe for pasta dough.
It comes with a spaghetti and fettuccini attachment. The fettuccini works wonderfully or I roll it out and cut it by hand.
It comes with the same fettuccine and spaghetti attachment, handle, and counter clamp.
Clamp for fastening to the table or counter is pretty basic
Cutter attachment works well and crank holds better into those slots.
The clamp doesn't stay attached to my countertop.
Clamp is too small to hold onto a thick surface (like a butcher block table)
Warranty / Certifications
People who viewed this item also viewed
CucinaPro 150 Imperia Pasta Machine w Easy Lock Dial and Wood Grip Handle
VIDEO
Homemade Pasta on a Imperia Pasta Machine