Hamilton Beach

70740

8-Cup Food Processor

Mondial MP-01
BLACK+DECKER HC3000
VonShef 4.5 Cup
KitchenAid KFP0922OB
Philips HR7761/01
Hamilton Beach 70740
Hamilton Beach 70730
Breville BFP660SIL
Proctor Silex 70452A
Kenwood FP959
Cuisinart DLC-XPBCN
Brentwood FP-580
Kenwood FP735
Kenwood FP959
Hamilton Beach 70730
Kalorik HA 31535
Hamilton Beach 70740
Black & Decker FP1600B
Cookinex KF-1000
Cuisinart DFP-14BCNY
Cuisinart BFP-603
Cuisinart BFP-650
Hamilton Beach 70730
Braun FP5160WH
Cuisinart FP-8SV
KitchenAid KFP0922OB
KitchenAid KFP0933QG
Hamilton Beach 70740
Ninja BL772
Tiger SKF-A100-W
Oster 3212
Cuisinart FP-14DC
Oster FPSTFP5273-DFL
BLACK+DECKER FP1140BD
Braun K650
BLACK+DECKER FP1800B
Savon SO-456B
Kenwood FP735
Hamilton Beach 70740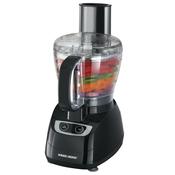 BLACK+DECKER FP1700B
Hamilton Beach 70550RL
Hamilton Beach 70670
Ninja QB1004
Cookinex KF-1000
What customers say about "Size & Weight"
I love that it is light weight as I store it in an overhead cabinet.
It is light weight and easy to store and handle.
Nothing fancy, does the job, seems durable, easy to clean.
This is a very sturdy and useful device, especially for the price.
It is kind of heavy and bulky but probably has to be to give the quality processing it does.
Great size, does its job. The materials feel a little flimsy, not sure how long it will last... But so far, so good.
Breville BFP800XL
Hamilton Beach 70740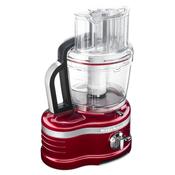 KitchenAid KFP1642CA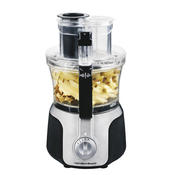 Hamilton Beach 70575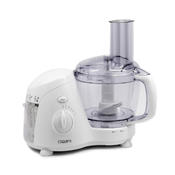 L'EQUIP 363610
MICHIBA KITCHEN MB-MM22G
FERRANO FP31B
German Pool PRO-6SSW
Braun FP5150WH
Braun K650
Braun K700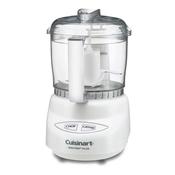 Cuisinart CGC-4WPC
VonShef 4.5 Cup
Ninja BL491
Kendal SJBS-1060
Cuisinart BFP-650
Hamilton Beach 70740
HealthMaster Elite JLA-8
KitchenAid KFP740WH
Waring WFP11S
Omega O660
Waring FP1000
What customers say about "Key Specs"
This machine has enough capacity to do anything that we've put through it.
Very powerful! It blends frozen berries and shreds yams and sweet potatoes as if they were nothing!
The motor is very strong, and it's nice to have two different speed settings.
This food processor is ridiculously fast. I can't imagine even needing the high speed.
It only has two speeds: 1 "Really High", and 2 "Insanely High". The Pulse function pulses at "Insanely High." So you can't really coarsely chop things like greens.
Hamilton Beach 70740
Hamilton Beach 70570
Waring FP1000
Braun FP5150
Kenwood FP196
Braun FP5150WH
Brentwood MC-105
Brentwood MC-101
KitchenAid KFP600WH
Breville BFP800XL
Kalorik HA 31535
What customers say about "Details"
The blade is sharp. The round shredding disk deal well with carrots, apples and many other veggies.
The chopping blades are spaced well so that food at the top is drawn down toward the blade and your whole substance receives a uniform chop.
The slicing blade is very good, but the shredder really, really shreds, like confetti! I think with practice I'll get the hang of the pulse chopping.
It works very well, but detracting 2 stars for the noise.
This processor works great but its so extremely loud that I dread using it.
What customers say about "Features"
The motor is mighty powerful and 2 settings plus a pulse are a perfect combination.
Super easy to assemble, dishwasher friendly, works great.
I like that the plastic that comes in contact w/ food is BPA-free.
I love the safety feature on it as well. It makes sure that everything is locked in place before it turns on, including the lid.
The product represents itself as dishwasher safe, but the bowl warped in my dishwasher and now the lid is nearly impossible to attach.
Included
Chopping/Mixing blades, Slicing/Shredding disc
Warranty / Certifications
People who viewed this item also viewed
Hamilton Beach 70740 8-Cup Food Processor
VIDEO
Hamilton Beach 8-Cup Food Processor Review - 70740